Shown above is a completed card from the Welcome Kit (as shown on front of

kit)
MY PAPER PUMPKIN WELCOME KIT: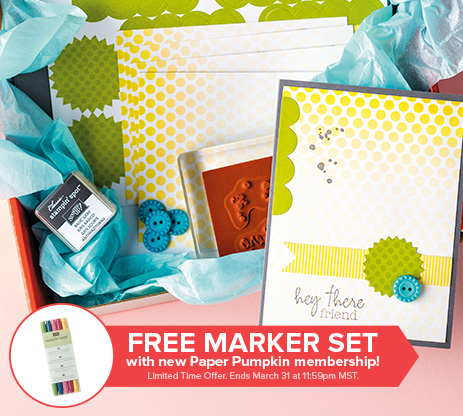 Just a reminder about the current
My Paper Pumpkin
promotion from Stampin' Up! You can try this fun craft program that is delivered straight to your door for
only $10 per month (includes shipping!)
for the first two months!
Join by August 10th to receive a kit in August.
To put this deal in perspective - the welcome kit includes a size D clear mount block, which sells for $8.50 ($9.35 with shipping). So, for less than a dollar more than the block alone would cost, you can get the entire My Paper Pumpkin Welcome Kit. Also includes stamps, ink spot, and card supplies as shown above.
Then, for the same low price of $10, you can try one more month so you can see what the regular monthly kits are like. You can skip a month or cancel at any time (even after the first month, but if you start up again, the next kit will be the regular price of $19.95).
Follow
the link
to sign up today! Enter the Promo Code
PUMPKINDEAL
under where you enter the quantity (click the red "Add Promo Code" line and a box will appear). The promo price will then show. If you are given a chance to select a demonstrator, please choose me, Sue Root, Raleigh, NC. (I think this link does it automatically, but just in case...)
Deadline to sign up for promo is August 31 (if you sign up after 8/10, you won't get a kit until September). Limit 1 promo per

person. New subscriptions only.
Perfect for long distance customers who can't make it to classes.



Also great for those who like everything prepared for them so they can just sit down and craft!
Give it a try! See what all the excitement is about!
Thanks for choosing me as your Stampin' Up! Demonstrator!